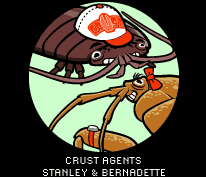 DEEP IN A MEXICAN LAIR SO SECRET EVEN THEY HAVE TROUBLE FINDING IT, TWO AGENTS FROM CRUST — THE CONFEDERACY OF RASCALS AND UNSPEAKABLY SUSPICIOUS TROUBLEMAKERS — PLOT THEIR LATEST ATTEMPT TO COLONIZE MARS... AFTER THEY COMPLAIN.
STANLEY: What took you so long? You get lost?
BERNADETTE: Of course I got lost! Who's in charge of lairs now anyway?
STANLEY: That new guy, Curtis. He has no lair experience, and yet... aaah, what can you do?
BERNADETTE: I tell you, I hope this plot goes better than the last one. I'm still cleaning feathers out of my jumpsuit.
STANLEY: Tell me about it. But don't worry: this plot can't miss. It's much too... dramatic. Mwoo-hoo-haa-haa-haa...
BERNADETTE: Stanley, please.
STANLEY: Sorry.