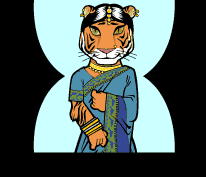 AGENT NELSON'S APARTMENT. THE TELEVISION IS ON. WITHOUT LOOKING AWAY FROM THE SCREEN, HE REACHES HIS TRUNK BACK OVER HIS HEAD AND GRABS A PLATE OF CHICKEN TIKKA MASALA FROM HIS TABLE. HIS TRUNK RETRACTS AND HE EATS, TRANSFIXED BY THE SCREEN.
THE MOVIE HE'S WATCHING IS "NAMASTE BANGALORE." IT'S A COMEDY COOKING MUSICAL ACTION SOCCER ADVENTURE ROMANCE MYSTERY KIND OF THING, ONE OF THE BIGGEST MOVIES TO COME OUT OF INDIA'S THRIVING FILM CAPITAL, BOLLYWOOD.
NELSON: Wow, that woman is amazing! I don't know why these movies aren't bigger here in the States. Gita Rai can navigate blindfolded through a deadly rainforest, climb a cliff, fight Ninja spies, and still arrive in time to save her village from the tax collectors and sing the big number at the end.